The Features section gives you access to two main actions:
You can enable or disable various features including live messaging, discussion boards, bookmarks, the user directory, course notes, and idle timeout. You can also set the default course sorting. Click on a toggle to enable or disable a feature.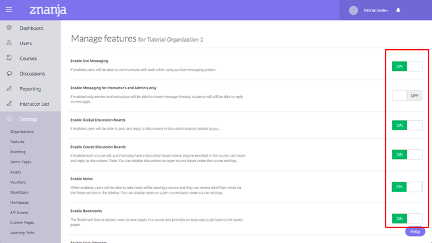 You can create up to five custom sub-domains for your users to navigate to your LMS organization by typing a name. These custom sub-domains can end in .znanja.com, .constantlearning.net, .extrify.com, .staffelearning.com, or .velocitylms.com.