In addition to the classic editor, you can use the page builder to edit your course pages. The page builder is a powerful tool that can help you easily create beautifully designed and functional pages for your courses. It gives you the ability to effortlessly add text, pictures, links, videos, maps, and other content directly on the page.

You can also quickly create a variety of specific pages using the Page Builder's templates, which include the following types of pages:
'Product features'
'Testimonials'
'Contact Us'
'Meet the Team'
'How it Works'
To open the Page Builder tool, select Page Builder from the top bar of the editing screen.



This will close the classic editor and open the page builder.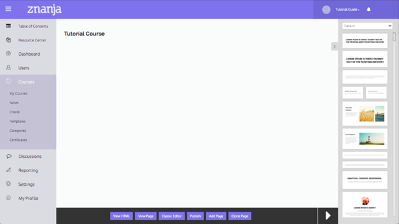 Note: You must save any changes you have made to your page before entering the page builder. Do this by clicking Publish.