To edit the text inside a snippet in the page builder, first select the section of text you want to edit.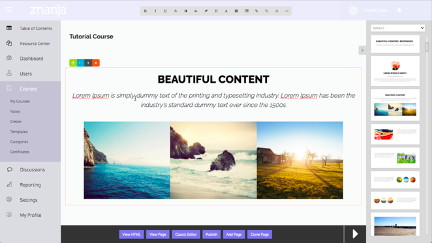 A text editing toolbar will appear at the top of the page that contains options for formatting your text and adding links. Text commands are listed below:



A. Bold: makes text bold
B. Italic: makes text italicized
C. Underline: makes text underlined
D. Strikethrough: will strikethrough text
E. Color: allows you to select the color of your text selection. You can define whether to select the text color, background color (the background behind only the selected text), or block background color (the background behind the entire block of text, no matter which text is selected).
F. Font size: allows you to change the size of your text selection
G. Clean: removes any formatting applied to your text selection and returns it to the default formatting.
H. Paragraph: allows you to apply headings to your text selection
I. Font: allows you to choose the font type from a list
J. Alignment: allows you to select either left, center, right, or justified alignment for your paragraph
K. List: allows you to adjust indenting, start either a bullet list or numbered list, or remove a list from the page
L. Link: allows you to create a hyperlink. Select text from your page, then click this button to open a menu where you can define the following fields:
Link: This is the link that will be added to the page.
Text: This is the text that will appear to students that contains the link.
Title: This adds a title when hovering over the link. It is commonly used to add a description for the link.
Target: This can toggle whether the link will be opened in a new window or not.
M. Remove link: will remove any link already added to a text selection
N. Icon: opens a library of icons that can be added to the page by clicking on them
O. HTML: opens the HTML coding for your text selection, and allows you to make changes
Type text changes directly into the paragraph and use the text editing toolbar to make formatting changes.
To exit the text editing mode, click anywhere outside of the text area.


Related Tutorial Video