1. Once a snippet has been added to a page, click anywhere on it to open a set of buttons.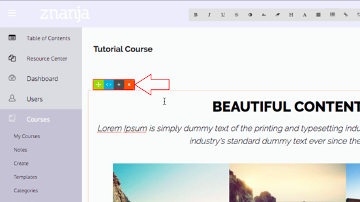 2. Clicking and dragging the green button will allow you to move the snippet around on the page.


3. Clicking the blue button opens the coding string for that snippet. This code can be edited to change how the content looks.


4. Clicking the gray + button adds an identical snippet directly after your current selection. If any changes were made to the snippet, they will be reflected in the copied version.


5. Clicking the orange x button will delete the entire snippet.

Related Tutorial Video